Principal Message of Best kids School in Bhopal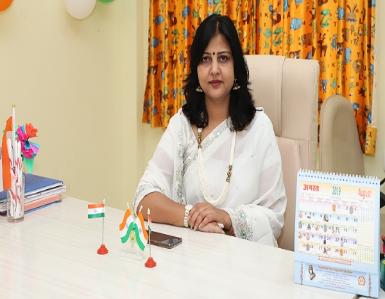 Mrs. Anjali Singh Kushwah
B.A., LL.B., M.A.(History), B.Ed., M.A.(English)
Head Mistress of MKH AYODHYA NAGAR BHOPAL
MAHARISHI KIDS HOME School is one of the best kids play school in Bhopal, providing a world class education, celebrating the fact that each student is different, as a person and as a learner. Our motto is Consciousness based education that ensures VALUE BASED EDUCATION.
We believe that powerful learning and teaching occurs under a shared spirit of respect which creates a passionate schooling experience recognized for its warmth, energy and excellence. Here people are valued and can fulfill their potential both as teachers and learners.
The divine blessing of His Holiness Maharishi Mahesh Yogi ji and regular practice of Transcendental Meditation have always nurtured and guided us and we feel blessed to be a part of this idyllic world where teaching and learning is a pleasure, where the teacher and the taught share a beautiful bond of trust and reverence and children are encouraged to be kind, compassionate and humble in their day to day life. Maharishi Kids home is one of the best play school in Bhopal offering excellent environment for learning and fun for toddlers.
We give a lot of importance to make discipline a core value, encourage students to develop a sense of responsibility through a well-planned academic schedule, various Inter School competitions, Sports and cultural activities.
Parent's students and the school authorities are a team and complimenting each other's efforts. Education is not just a process of imparting knowledge for a future job but a lifelong process which creates understanding moral and ethical values in order to guide one's life and make our students the future hope of this great country. . I strongly believe that proper guidance and motivation can help a child realize his dream and acquire wings.
A large part of a child's active life is devoted in the school. However, every child gets his/her emotional stability from parents. It's the parent's attitude that a child absorbs, the interest and time that parents invest in children is crucial for the development of their ward. We feel blessed of a dedicated team of teachers, administrative staff, and above all cooperative, concerned parents. I take this opportunity to thank all the parents who have reposed their faith in our school. We assure to do the best for the students, and respect your patronages. Finally, I would like to say "Education is not preparation for life, education is life itself."
With Sincere regards
Head Mistress
Why Choose US
Escorted Cab Available.

Inculcation of Best Tradition .

Hobby Club.

A Play School

Play & Learn.